About Us
Providing Special Care For Your Pets
Your Animal Expert and Friendly Veterinarian
Dr. Dehna L. Shaffer
Dr. Shaffer grew up in the Fort Worth area and graduated from Haltom High School in 1991.  She went on to earn her bachelors degree in Biomedical Science from Texas A&M University in 1995.  Her Doctor of Veterinary Medicine was obtained from Oklahoma State University in 2003. 

She has practiced from 2003 in emergency medicine and private practice.  In 2006, she started her own practice as Shaffer Veterinary Services, PLLC.  Since that time she has been strictly mobile and making housecalls to her patients.  In August of 2010, she acquired Shaffer Veterinary Hospital. 

Dr. Shaffer is a member of AVMA, TVMA, TCVMA, and IVECCS.
Crowley, Texas and Surrounding Areas
Areas Served
Shaffer Veterinary Services is located in Crowley, Texas and is proud to serve pets and families from the surrounding communities of Burleson, Forest Hill, Benbrook, Fort Worth, Mansfield, White Settlement, Cleburne, Haltom City, Richland Hills, Arlington, North Richland Hills, Saginaw, Hurst, Watauga, and Bedford. We have patients that come to us from both Tarrant and Johnson Counties.
Veterinary Technician
Ryan H
Ryan will soon graduate from Tarleton State University with a Bachelors in Animal Science. He plans on attending veterinary school very soon, with intentions of practicing as a veterinary ophthalmologist or in a mixed animal practice.  As of now he is learning as much as he can from Dr. Shaffer. He has one fur kid named Boss. 
Veterinary Technician
Stacy M
Stacy has worked for Shaffer Vet for almost 3 years. She previously worked for BISD as a paraprofessional. She has been married for 26 years to her high school sweetheart. They have 3 sons, seven dogs and three cats. They keep them very busy. Stacy and her family enjoy the outdoors and hope to have land for horses and more farm animals one day. Working for Dr. Shaffer has been a blessing to be able to learn, love, and care for your animals.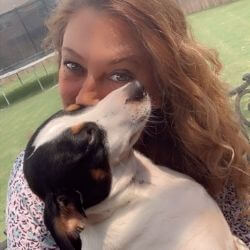 Customer Service Representative
Sheri H
Sheri graduated from Oklahoma State University and The University of Tulsa, earning her degree in Special Education and Elementary Education. She retired after 33 years and began pursuing her true passion of caring for animals. She joined Shaffer Veterinary Hospital about 4 years ago and has earned her Certified Veterinary Assistant Certification. She is the proud parent of 2 wonderful dogs. 
Veterinary Technician
Erin J
Erin has worked in the veterinary field for almost 14 years and has been with Dr. Shaffer for 2 years since she came back into the field. She left in 2008 and pursued her degrees in Geology - earning her Geology bachelors and Geophysics masters from the University of Texas at Arlington in 2011 and 2013, respectively.
She taught at a private middle school and high school - multiple sciences courses, as well as teaching Geology at Tarrant County College from 2013-2019. After leaving the private school she decided to come back to the veterinary field, one of the first loves in her life.
She has lived in Crowley, Texas with the other love of her life, her husband of 22 years, Mark and their youngest son for a little over two years now. They have 3 boys all together, 3 dogs, four cats and a turtle named Cecil.
Veterinary Technician
Farryn G
Originally from Baltimore, Maryland, Farryn has been living in Texas for almost ten years. She is a mom of three fur babies: Regan, Zeus and Nipsey. Currently in school to obtain her Veterinary Technician's License, Farryn plans on graduating in the fall of 2023. She says "I've  had the pleasure of working for doctor Shaffer and her team for almost a year and it has been a fun and outstanding experience!"
Small Animal Veterinary Hospital
The Best Vet Care For your Pet
Our caring staff of veterinarians, state of the art hospital and commitment to quality pet care makes Shaffer Veterinary Hospital your trusted source for all your pet's needs. Whether you need pet vaccinations, animal teeth cleaning, or any other veterinarian service, our animal hospital offers the compassionate, knowledgeable care your pet needs.
The veterinarians and support staff at Shaffer Veterinary Hospital in Crowley, Texas works with you to make sure your pets get regular preventive care to keep them healthy, as well as more critical care when they are sick or injured. Our hospital will provide all the various types of care your pet may need over the course of their lifetime.
Always pleasant nurses and great curb service for med pick up!
I'm always grateful for this vet and staff. They always go above and beyond and we will always use them for our fur babies.
Dr. Shaffer and staff are so pleasant. I am glad I chose Shaffer Veterinary Services to help me give our little Stella a great life.
Great doctor and staff! They always take such good care of my babies and make sure I know their shot schedules.
Amazing staff. Took cat there when he was having kidney problems and they took great care of him.
I have also taken lost dogs in see if they are microchipped; they keep the dogs and reunite them with their owners. They always treat my babies with gentle, loving hands.
Contact Shaffer Veterinary Services in Crowley, Texas
To Schedule An Appointment For Your Pet