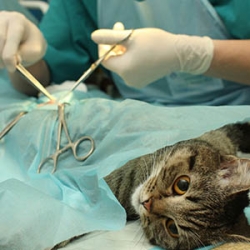 Surgery
Veterinary Surgery in Crowley
Shaffer Veterinary Services has expertise in many advanced orthopedic and soft tissue procedures as well as routine surgical procedures such as spays, neuters, and declaws. Crowley veterinarian Dr. Dehna Shaffer offers the most advanced surgical techniques and technology. All patients are carefully screened for safety, and anesthetics are specifically tailored to your pet.

It is highly recommended that each surgery patient have pre-surgical lab tests done as an aid to reduce surgical and anesthetic risk.  Some procedures may require these preliminary tests as well as radiographs before surgery can be performed. 

Our experienced veterinary and technical staff is there to assist in surgery and the patient's vital parameters are intensely monitored during anesthesia and post-surgical recovery.
To ensure the safest, most efficient, state-of-the-art procedures for your pet, Shaffer Veterinary Hospital utilizes:
heated surgery tables for greater comfort and reduction of body heat loss
advanced sterilization techniques
gas anesthesia with a gas scavenging system for expelled gas
the latest surgical monitors
The parameters monitored during and sometime after surgery include:
ECG
blood pressure
respiration
temperature and oxygen
carbon dioxide saturation
Veterinary Services
Shaffer Veterinary Hospital is a well-established, full-service, small animal veterinary hospital providing comprehensive medical, surgical, and dental care. Additionally, we offer kitten and puppy wellness plans and senior or geriatric wellness strategies. We also provide boarding and medicated bathing.